LAND ROVER DEFENDER 
90 & 110 HARD TOP
Land Rover's New Commercial Defender line-up includes the Defender 90 Hard Top & Defender 110 Hardtop.
The short-wheelbase Defender 90 hard Top comes in standard trim option and powered with the D200 six-cylinder diesel.
The Long-wheelbase Defender 110 hard top is available as either standard trim, S, SE or HSE trims & powered with either the D250 or D300 six-cylinder diesel engine with prices starting sub £40,000 + vat.
FRONT SEAT OPTIONS & CAB STORAGE
The Commercial variant of the New Land Rover Defender 90 & 110 both get two front seats as standard, with varying trim levels & seat adjustment options available providing a massive step up in comfort compared to previous Defenders
Within the superbly equipped cab are various storage compartments helping to keep your workday organised.
Picture shown includes the optional central buddy seat.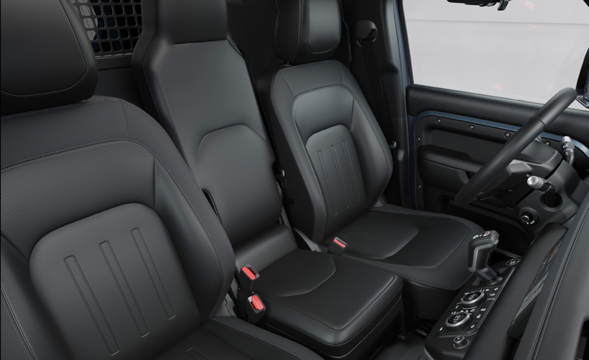 LOAD SPACE
The New Land Rover Defender offers a large rear load compartment.
Separated from the driver & passengers cab area by a safety bulkhead.
The 110 variant has a sizeable 2059 litres of practical storage, the main load floor area being completely flat for easy loading.
Various lockable storage areas are great for keeping smaller equipment safely organised.
MAKE YOUR NEW LAND ROVER DEFENDER HARD TOP work for you
Whilst the New Defender Hard Top is undoubtedly a well-designed commercial vehicle, offering exceptional Off-Road prowess & great load carrying abilities suited to many work environments, there can however be times when carrying more passengers is a necessity.
This where our professional rear seat conversion service comes in, at Vanarack we have been supplying and installing commercial vehicle seat upgrades for over 12 Years.
With a vast experience converting 100's of the ever-popular Discovery 5 Commercial into a 5-seater the Defender 90 & 110 conversion follows a similar path of popularity with business owners.
Installation at our fully insured & well-equipped workshop takes approximately 6-7 hours to complete by two trained & approved installers, offering you same day collection.
During the installation process we carefully remove the safety bulkhead, lockable underfloor storage & provide you with these parts for possible re-installation at a future date.
This reveals the area where the M1 tested seat conversion will we installed (See Image 1)
Both inner rear quarter panel upper & lower trims are removed, allowing installation of the two 3-point inertia reel seat belts into the factory locations (See Image 2)
We then prepare the exposed floor area shown in picture above using foam inserts & continue to trim using a high-quality automotive stretch carpet trim as shown (See Image 3)
Next, we carefully refit interior trim panels in preparation for seat installation, the seat conversion is secured to factory fixing locations with the 4 x bolts shown (See Image 3)
seated position
flip down position
seat trim close-up
Flip down - LOAD CAPACITY
flip up - passengers
Retaining the great load carrying capacity of the Defender 110 is simple, our seat conversion can be quickly folded in seconds with a simple lever action leaving a near flat load area.
Thus allowing a high percentage of the original load area to be retained for carrying loads, then returned back to the upright position with a simple lever action for carrying passengers.
Interested to find out more
Complete our quote request form and we will be in touch soon
OUR CUSTOMER SERVICE IS ALWAYS FIRST CLASS....
---
We are here to help, from taking phone orders and enquiries to a little product installation advice, our small knowledgeable team will aim to make your dealings with us as easy as possible.
As a family run business, Vanarack takes pride in offering the best brands and products, backed by our first class customer service promise.
At Vanarack we are always happy to hear from you, and encourage feedback good or bad in order to help improve our service to you.
Friendly UK Customer Services
Available by Phone - Monday to Friday 8.30am - 6.00pm
Online or Phone Orders
Transparent Order Returns Policy
Product Guarantee's
Secure Payment and Data handling