Armorgard Security Products > SECURE STORAGE FOR TOOLS & HAZARDOUS SUBSTANCES > IN VEHICLE STORAGE ACCESSORIES BY ARMORGARD >
Mainland UK delivery included in prices ( some postcodes incur a surcharge )
Armorgard Security Products
Armorgard Security Products.
Armorgard
Armorgard Secure Storage for Tools, Equipment and Hazardous Substances
STRENGTH >> DESIGN >> QUALITY
Armorgard Security Products are a leading manufacturer of secure storage solutions. Building on a reputation of quality, service and value for money, their industry compliant products provide the answer for the security and safety of tools, equipment and hazardous goods.
Armorgard Security Products are tough and built to last, manufactured using the latest design techniques and quality materials offering you unbeatable value for money.
Armorgard Security Products range of in-vehicle van storage boxes, vaults and cabinets designed to protect power tools and equipment from theft from the back of your van.
Protect expensive machinery, or even copper pipe and fittings we have the answer for keeping your assets safe.
All products are manufactured to the highest specification, using quality steel, high spec locks, continuous hinge and robust paint finish.
Trust Armorgard to stop your tools disappearing.
Whether you are looking for chemical storage, fuel storage, pesticide storage or any other type of hazardous storage, look no further.
The Armorgard Secure Hazardous Storage range is designed to comply with all fuel and chemical storage regulations, featuring bunded sumps, high and low level ventilation, and relevant hazardous warning signs.
We would always recommend that you seek the advice of a professional body before deciding where and how you store hazardous substances.
Armorgards Range Of Products Include
Equipment and Tool Storage
Strongbank Tuffbank Oxbox Barrobox Toolbin Tuffdor Tuffstor
Hazardous Goods Storage
Flambank Flamstor Cabinet Transbank Flamstor Drumbank Tuffcage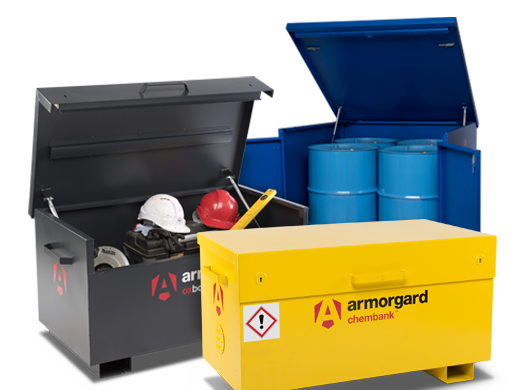 For the full range of Armorgard Security Products check out our Amorstore.co.uk website